Overview of Rintrik
Long ago, there used to be a valley known for its beauty. A number of young couples and travellers visited the valley to witness the beauty in the past, but now it has turned into a place where young lovers come to throw away their new-born babies - even 20 or 30 babies a day. One day, an old, blind woman Rintrik appeared in the valley and started living there, and she kept burying the babies that had been thrown away even on rainy days and during a storm. Villagers, who at first were afraid of her, eventually learned to have respect for her.
One night, one young man comes to Rintrik with a baby in his arms, asking her to bury the baby. Later, there appear a young girl who is the mother of the baby and a hunter who is the father of the girl...
Danarto is a writer that deals with Mysticism, whose roots are in the spiritual ideology of Kejawen, the Javanese indigenous religion with mixed values from Hinduism, Animism, and Islam. Yano, Artistic Director of Theatre Company shelf started by interpreting/translating the text written by this author whose social, cultural, and religious contexts and values are completely different from his own. Yano endeavours to explore the possibility of mutual understanding and the depictions of life and death, and women in Asian Literature through theatre production. This production is planned as the first phase of a long-term international co-production project between Tokyo and Jakarta: The Crossing Text: Between "Mystery" and "Mystical". While Theatre Company shelf tackles Rintrik by Danarto, his creative partner Bambang Prihadi from the Lab Teater Ciputat will be presenting their production of Sotoba Komachi originally written by Yukio Mishima.
Direction Notes on Rintrik from Yasuhito Yano
I want to make a drastic change to the setting of Rintrik by bringing the story to a contemporary city. By contrasting the original novel's vision of this unkempt land and field with the chaos of the city and its loneliness, In the new setting of highly disinfected contemporary city space, I want to highlight/exaggerate the old woman Rintrik's body covered with dirt and soot, and the peculiar holiness and purity it has. It is very difficult for me to understand the ideology of Islam or that of Monotheism. However, I believe that the Animism elements of Kejawen can help me understand Danarto's idea of God. I would like to present the story of this novel filled with the ideas of Mysticism, as an allegory for those living in this troublesome contemporary society to help them find how to survive these difficult times.
Written by Danarto
Translated by Yoko Yamashita
Directed by Yasuhito Yano
Cast
Yuko Kawabuchi, Takashi Okito, Shoichi Ayada, Yuhei Yokota
Staff
Lighting Design by Yuka Hisamatsu
BTS Video Shooting & Editing by Koji Eto
PR Photography by Mari Harada
PR Hair Styling & Makeup by TERACHI
Advertising Art by Tamotsu Okuma (956D)
Symposium Streaming by Yamabuki Factory
Production Interpretation by Ardha
Stage Direction by Makoto Kawaguchi(Le Rayon Vert)
Funded by Tokyo Metropolitan Foundation for History and Culture Arts Council Tokyo
Produced/Organized by Theatre Company shelf
Date
Tuesday, October 6th at 7:30pm
Wednesday, October 7th at 7:30pm
Thursday, October 8th at 7:30pm
Friday, October 9th at 7:30pm
Saturday, October 10th at 5:30pm
Venue
The 8th Gallery (CLASKA, Gakugei-Daigaku)
1-3-18, Chuo-Cho, Meguro-ku, Tokyo / tel. 03-3719-8121 Venue Map
Directions
10-minute walk from Tokyu Toyoko Line Gakugei-Daigaku Station East Exit
Or
1-minute walk from Tokyu Bus Stop Shimizu, accessible from JR Yamanote Line Meguro Station West Exit
Ticket Prices
Adult ¥3,500
Student ¥2,000
There is no ticket available on the day of the performance. Please book your tickets and finish your payment beforehand as part of our COVID-19 preventative measures.
How to Buy Tickets
Please read the guideline below and either 1) fill out the reservation form or 2) purchase tickets on the Peatix website.

Once you fill out the reservation form, we will send you a confirmation email with our banking information so you can deposit your payment to complete your booking process.
Reservation Form
Peatix
〈Instructions for Audiences during the COVID-19 Pandemic〉
read more...
Please do not come to the show if you have any of the following symptoms:
Your body temperature is 37.5 ℃ or above, or you feel unsure of your health due to a fever or a cold;
In the past two weeks, you have had any health issues including a fever of 37.5 ℃ or above, severe coughing, difficulty in breathing, physical weariness, sore throat, taste/smell disturbance, headache, diarrhea, nausea etc.;
In the past two weeks, you have had a high level of physical contact with those suspected to have COVID-19;
In the past two weeks, you have had a high level of physical contact with those who have stayed in any of the countries/areas where there are immigration restrictions and/or other regulations in terms of how long you need to be in self-isolation after entering the country/region.
All audiences will be asked to measure their body temperatures using a thermometer that doesn't require physical contact. If it is confirmed that your body temperature is 37.5 ℃ or above, you won't be allowed into the venue. Thank you for your understanding.
〈We Need Your Contact Information〉
All audiences will be asked to submit their contact information.
We may disclose this information to health centres if it is confirmed that any of the staff, cast, or audience members have been infected with COVID-19. We won't use your personal information for any other purposes, and will discard it 4 weeks after the performance.
〈Our COVID-19 Preventative Measures〉
Please wear a mask during your visit.
Please be mindful of people around you when coughing.
Please wash and sanitize your hands and fingers.
Please practice social-distancing.
Please refrain from touching other audiences or speaking loudly.
Please refrain from giving gifts to the cast or meeting with them.
〈Temperature Maintenance Through Ventilation〉
We will keep our doors open before the performance for ventilation purposes.
It might affect the temperature inside, so please make sure to wear clothes that can be adjusted according to the temperature.
〈Our Cancellation Policies〉
In case you feel sick on the day of the performance and need to cancel your ticket(s), we may send a refund (excluding the service fee) to your bank. Please contact Theatre Company shelf's administrative office.
〈Possibility of Show Cancellations〉
If there is any reason for us to believe that it is impossible to continue our show as is (for example if the city declares state of emergency, or if it's been reported that any of the staff, cast, or audience members have been infected with COVID-19), we might change the show contents or cancel the show altogether. Even if the show gets cancelled because of someone infected with COVID-19, the infected individual won't be responsible for the cancellation and won't be asked for any compensations.
Should there be any updates on our show due to any changes of the COVID-19 situation, we will communicate them to you on the shelf website.

Thank you for your understanding and cooperation.
close
Our Online Sympodium
There is going to be an open sympodium online organized with the creative members from the Jakarta Team.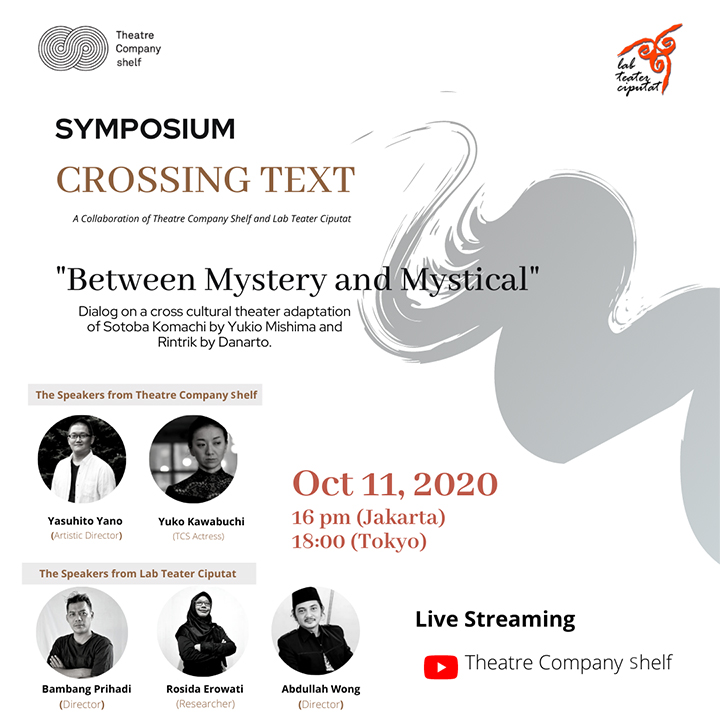 YouTube Live Streaming URL: https://youtu.be/7BXal1NojYo


Date Sunday, October 11th, 2020 at 6:00pm
Venue Yamabuki Factory (no audience at the venue - it will be streamed live on YouTube. **The sympodium will be archived for future viewings.)
Fee Free
Reservation Not Required
※Please click here to check our COVID-19 preventative measures for this show.

shelf稽古場、劇場における感染症対策ガイドライン

Please visit CONTACT to contact us.