Goals
A bookshelf contains various texts by a variety of authors from many countries and different time periods. Since we would like to imitate such a bookshelf that represents people of all cultures -- including our own -- we use many different texts by different authors (from Henrik Ibsen to Roland Schimmelpfennig), and actively co-produce and collaborate with international artists so we can be conscious of the presence of "others" we would not be familiar with otherwise.

Moreover, since we are aware that globalization has ironically turned every individual and culture into a mere piece of a system that is contemporary society, we give importance to each and every local culture, history, and language in order to restore the dignity of every human from every culture.

We believe that theatre and its culture can provide an inclusive community to everyone, whether they are an audience or a performer.

About Theatre Company shelf
shelf stands for bookshelf.

Theatre Company shelf is known for 1) its way of capturing the contemporary and aesthetic sense of space and time and 2) its performance style that radiates energy created by the actors' silence on stage.

shelf's work has received international acclaim -- For example, GHOSTS-COMPOSITION/IBSEN was invited to be part of the official programs of The International Ibsen Festival 2014. Also in November 2015, [deprived], produced in collaboration with Thai local artists in Bangkok, Thailand, was nominated for Best Script at the Bangkok Theatre Festival. Furthermore, its first China tour of its production of Hedda Gabler in 2018 visited five cities and one village (Wuhan, Nanjing, Shanghai, Beijing, and Jinan Fangyu) and participated in The Wuhan 403 New Youth Theatre Festival, The Beijing Fringe Festival, and The Jinan Fangyu ART Festival.

Awards
Theatre Company shelf has received a number of awards in recent years.

For example, in 2008, shelf was awarded by the Mayor of Nagoya, Nagoya Citizens Art Festival Special Award for Theater 2008 with its production of Little Eyolf originally written by Henrik Johan Ibsen. Also in 2011, at Nanatsudera Kyodo Studio in the City of Nagoya, shelf was again awarded by the Mayor of Nagoya, Nagoya Citizens Art Festival Award for Theater 2011 with its production of Composition/Ibsen, which was based on Ghosts written by Henrik Johan Ibsen.

Some of shelf's actors have been recognized for their performances as well. For example in 2008, Yuko Kawabuchi, one of shelf's actresses, won The Best Performer Award at The Toga Theatre Competition organized by The Japan Performing Arts Foundation, with her performance in Little Eyolf originally written by Henrik Johan Ibsen.

Yasuhito YANO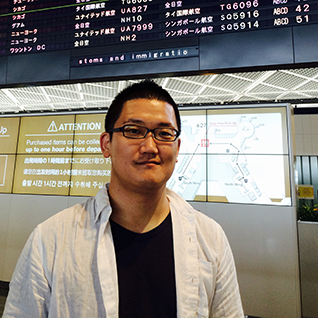 Founder and Artistic Director of Theatre Company shelf. Born in the City of Nagoya in 1975, Yano started to become active in Theatre when he was a student at Hokkaido University. After graduation, he joined the theatre company Seinendan founded by Oriza Hirata, and in 2000, directed Fireflies written by Toshiro Suzue, as part of the company's project for young emerging directors. He established his own company Theatre Company shelf in 2002.
Yano re-envisions classical texts from around the world by textually reconstructing them and is very conscious of what is happening in today's society. He is recognized for his formidable aesthetic sense in regard to space and time -- he draws out actors' energy on stage by evoking stillness. In the modern theater culture of Japan, his style, which concentrates exclusively on direction, is quite rare since almost all Japanese directors are also playwrights.
He is known for his work such as R.U.R. a second presentation written by Karel Capek, Composition/Ibsen based on Ghosts written by Henrik Johan Ibsen, Fragment/Greek Tragedy based on Trojan Women written by Euripides, Little Eyolf written by Henrik Johan Ibsen, and Hanjo/Yoroboshi written by Yukio Mishima etc.
In recent years, he has also been involved in the management of overseas companies' performances in Japan. He is a member of Open Network for Performing Arts Managerment.